Monday came too early. One of the must-sees of Seattle is the seafood stall inside Pike Street Market. Young men with tattoos and gauged ears stand inside and out of the stall in bright orange waders. They have quite the act worked out for the tourists. When someone purchases a fish, the man on the floor picks one out and throws it to the guy behind the counter. If they want to rile the audience up, they do this a couple times and then throw a large stuffed fish out into the crowd. Guarantees a shriek from at least one unsuspecting female tourist. To scare the kids, there is a mock fish hanging from the stall. I don't mean 'mock' as in fake. It's a type of fish, if you were unaware, and an ugly fish at that. If a child or, in my case a tourist with a camera intent on getting an up close and personal shot of the fish, comes too close, a string is pulled and not only does the fish jump, if you're lucky its guts have started to break down and goo starts to run from its mouth. I can't lie, I screamed. Unfortunately, I didn't even get my shot.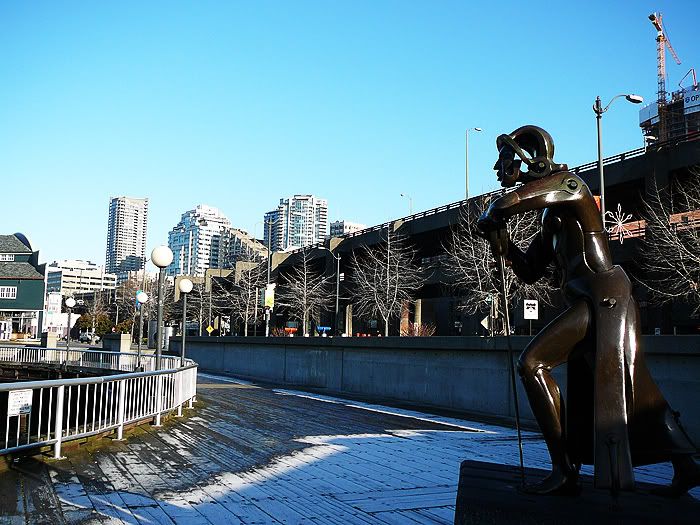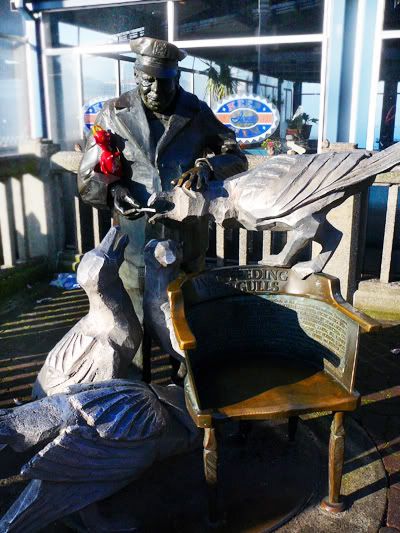 There is a short ferry ride one can take over to Bainbridge Island. The ferries in Seattle are apparently in quite a state of disrepair, but I suppose we lucked up, as our ferry was on time both ways…and it didn't sink. It cost around six dollars for a return ticket and is probably a 45 minute trip each way. You really get some great views of Seattle, so it's almost worth it for that.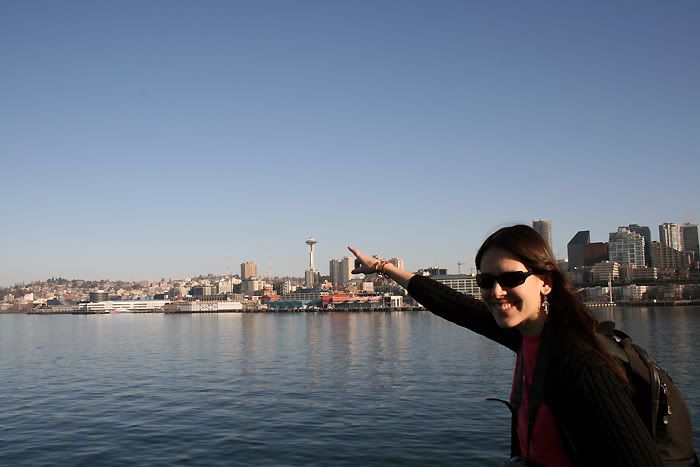 The island itself is rather touristy. A lot of quaint shops and galleries, most purveying things beyond this travelers budget. There is a fantastic bakery though, I believe called Black Bird. Apparently the island is quite beautiful beyond the main strip and there is a place to rent bikes almost as soon as you disembark the ferry.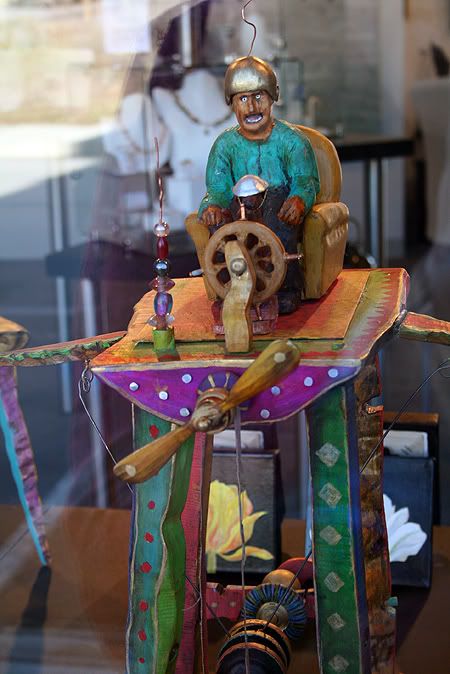 The trip back on the ferry is also a great time to work in a power nap.
When we got back to the mainland we began our efforts to meet up with a friend of mine for a drink. In the time between, we ran down to Elliot Bay Books. Its not quite Powell's in Portland, but its damn close. And I find, infinitely more interesting to meander through. Within minutes, I'd found zines that I didn't even know I was looking for. I had to stop myself from buying half the store. There is a café under the bookstore that sells great mochas and is a non-touristy stop to have a drink and read a book.

We wandered down to Pioneer Square, one of the oldest parts of Seattle and settled on meeting my friend at Merchants. Merchants claims to be the either the oldest restaurant or bar in Seattle. Its believable. Old wooden booths, wooden floors, it reminded me of a lot of the old pubs in Ireland.
Back to the hostel for regrouping. What to do, what to do. Drinks were of course in order. A shop owner on Bainbridge Island suggested Purple. Lucky for us, it was just a few blocks from the hostel. Purple is a wine and cheese bar from what I can tell. Very trendy. We of course brought our signature 'Travelers on the Town' look to the joint. But our lack of stilettos and 200 dollar haircuts did not stop us from enjoying ourselves. We ordered 3 cheeses and their accompanying wines. The gentlemen next to us, minions from what they lovingly called "The Evil Empire"; or Microsoft. I proceeded to horrify them with a recant of a dream I had had recently. It involved midgets and diapers. Oddly enough, it wasn't as disturbing as it sounds, but we managed to permeate the rest of the night's conversation with bits of carnie talk.
Well, I'd like to end this on a less odd note, but the fact is, that was the end of the evening. We made our way back to the hostel again to make final preparations of storing our luggage in the morning for another day of meanderings before catching a train to Vancouver.