Day Three--Seattle
Tuesday comes and we make our way to the Center of the Universe, aka, Fremont. We are now in search of no less than a troll, a rocket ship, Vladimir Lenin, and a Chocolate shop. When we search, we find. We usually have a short list of oddball things to find or accomplish. Its rare that we fail.
The bus drops us off at an unassuming crossroads but the driver promises that a troll is to the left and Lenin to the right. Lenin is calling! You might be asking yourself, why is there a statue of a Russian leader in Seattle? Well, might I remind you, Fremont is the Center of the Universe. The real story is a regular guy saw the statue in one of the old eastern countries. Spent his savings on buying it and now it sits in a courtyard in Washington state. Its actually for sale again, only $250,000. Any takers??
And now for our troll. I'm assuming we're looking for a statue. Bronze perhaps, on a street corner. We go to where it is supposed to be, look at all the corners, and it is nowhere to be found. Then, all of the sudden, you realize it isn't a statue at all, but an enormous sculpture taking up every inch of the space under a bridge, which of course is exactly where it should be.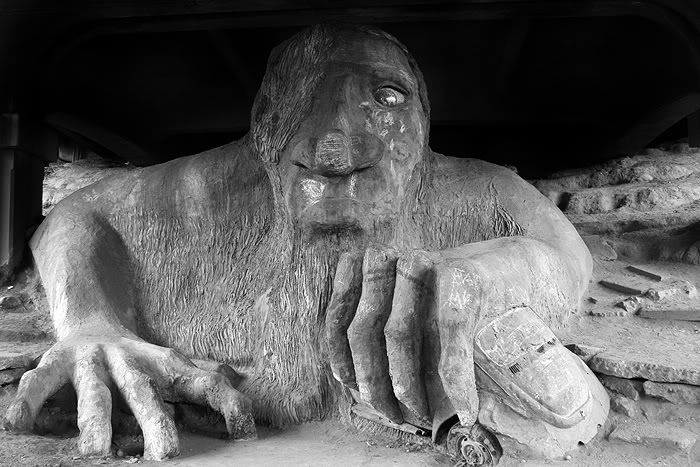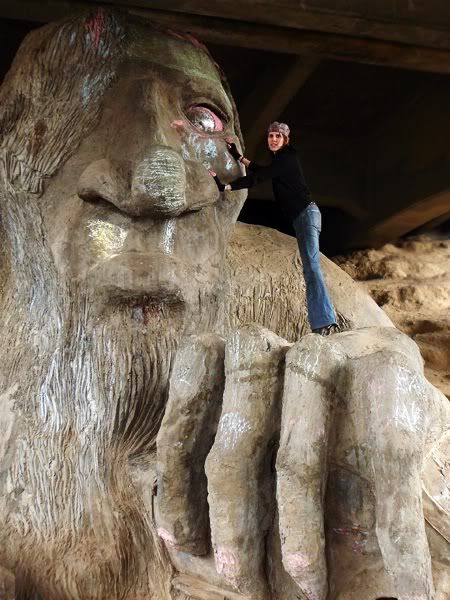 Chocolate is calling, as usual and we work our way to the factory. Our luck, we missed the tour. That did not stop us from sampling more chocolate than necessary and spending probably 30-40 minutes in store that only sold about 10 kinds of chocolate bars, well they had truffles too!
I love Thai food. We have one Thai restaurant in town that I frequent. There is a Thai restaurant on every block in Seattle. I can't for the life of me remember the name of the Thai place we ate lunch at but it was in a tiny white house and it was great.
You'd think that was enough for one day, but of course not! On to the EMP, or The Experience Music Project, or The Paul Allen Museum of His Own Stuff. The building was designed by Frank Gehry, you can spot this from a mile away. I have to say, the building itself may have been more interesting than a lot of the stuff inside. The "museum" part was largely a history of the Seattle music scene. Moderately interesting. I think my favorite part though was the room of guitars. Every kind of guitar ever imagined I think. The Hendrix installation was more or less closed, but there were two guitars on display, including one used at Woodstock. There is a room where you can play various instruments and even record yourself. You can go on a stage and record a video. Cool I guess, but all that was lost on me. As was the enormous installation detailing the history of Latin music.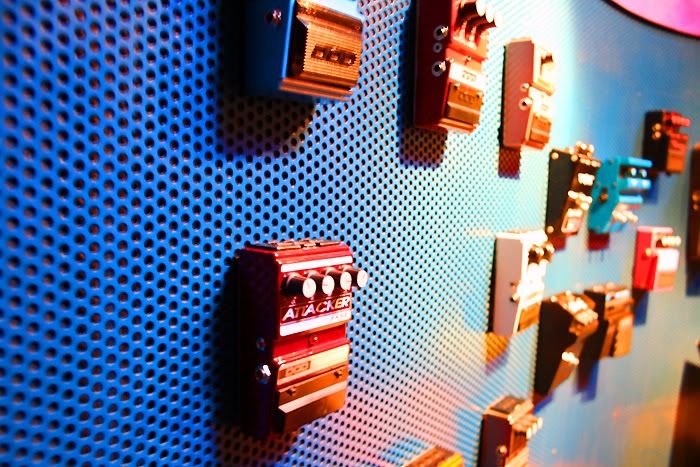 With your ticket, you also gain admittance to the sci-fi museum, the EMP's less popular cousin. But enjoyable. I proceeded to literally shoot from the hip. No one was around and I wanted some pictures. Someone should have gotten a picture of me in stealth mode. Who am I kidding? I'd suck as a spy!

(the only thing from Back to the Future I could find. Shame Paul Allen!)

Ok, that's enough for one day. How we packed all that in, well, we're nothing short of amazing right! But the best story is yet to come.
I had bought tickets online a few weeks prior for the Amtrak train from Seattle to Vancouver, BC. So we get our gear (we should have hired sherpas) and trekked to the Amtrak station. Shel watches the bags, while I check in. Except my reservation is nowhere to be found. I grab my confirmation number and hand it to him. He promptly pulls up my reservation…for last month. How did I manage that! Thankfully he was able to fix it. Then I find out that I didn't book a train at all, I booked a bus. There is no train to Vancouver. That my friends, is crap. I'm trying to ingest this and procure real tickets without Shel noticing that things have gone a bit pear-shaped. But it all worked out. We walked down the street for a last look at Seattle, and a last coffee and boarded the bus. A tiny Asian man with a thick accent but a great sense of humour shepherded us into what may or may not have been Canada.